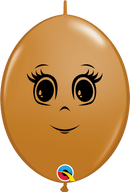 Description
Feminine Faces are perfect for princesses, brides, fairies and much more! The balloons have two tying places, one at the bottom (neck) of the balloon and one at the top (tip), allowing balloons to be tied together, creating an arch or column. QuickLinks® are great for creating various types of structures without the use of monofilament line or other framing materials. These balloons ship uninflated and can be filled with air or helium.
Blush, Mocha with Black ink.
Opaque (Not see through)
Quantities per package
Payment & Security
Payment methods
Your payment information is processed securely. We do not store credit card details nor have access to your credit card information.
---
Security