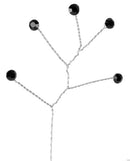 Description
Celebrate your school pride, athletics, and perhaps your alma mater with these dazzling Quintets!

A collection of small silver wires that spin together branching out attached to beautiful rhinestones at the tips. Easily flexible and can be twisted around any segment of your mum for that sparkling detail! Let these help you to alter and embellish your creative undertaking!

Personalize any special homecoming mum, party or event! Add them to favors, tags of wrapped homemade goodies, greeting cards, and invitations. Even embellish floral corsages! Adorn cakes and cupcakes! Create clever napkin rings and wine glass stem accessories. Wired floral accent adorned with colored gemstones. Use for floral design and crafting! Attach to a corsage. mom, hair piece, or much more to give your design a more glamorous look!
Bulk available 
here
.
Payment & Security
Payment methods
Your payment information is processed securely. We do not store credit card details nor have access to your credit card information.
---
Security